If you are one of those who are well-oriented in the world of WordPress website development, the usual thing that you will see is that most WordPress themes carry plugins. Most of these plugins are third party software, and depending on your familiarity with these plugins, you may find them either complex or easy to work with. One of the more popular plugins is Elementor. Though a lot of plugins use Visual Composer or WP Bakery Page Builder, Elementor is also regarded highly because of a lot of features that the two competitor plugins cannot supply. If you have encountered a
theme that uses Elementor, you will probably notice that it comes with customizability features that are a lot more useful than what other plugins have to offer.
The main advantage of Elementor that other plugins fail to have is its incredibly fast response while allowing you to see exactly what you will get when you are still editing your webpage. You will also be able to see past revisions even as you have saved the latest modification and work your way from any stage to make the necessary adjustments you wish, in case you made a mistake upon saving.

If you have had some experience with creating pages with similar templates, Elementor allows you to work faster by letting you reuse your templates. You can also simply export or import existing templates from other sites so you will no longer worry about having to log on to a cloud server to get the templates you need. This is greatly helpful especially if you have the misfortune of having to work offline due to connection issues. Because of some of these incredibly helpful features, some theme creators prefer to use Elementor instead of other page builder plugins. It is an incredibly wise choice for these creators to use this plugin because both the user and the theme creator can create endless possibilities without having to repeat every step in making their works.
If you have been used to making websites using themes from WP Bakery Page Builder or Visual Composer but want to try out Elementor WordPress themes, we have a list of themes for you to try out. This list is filled with more versatile themes that you can use on practically any kind of website that you wish to create. They are also great starting points because they are very stable and do not require complex codes to get them up and running.

Some of these Elementor WordPress themes also help you get a firsthand impression on what the website will look like if you use them, so you can decide on your own if you want to buy them and make your own website using these themes. These themes are not restricted to their preview pages' features, and also give you a rundown on what you will get when you get the package and possibly more, depending on their updates. Read below to know more about them.
Phototype – New Elementor Portoflio WordPress Theme 2019 for Agency, Photography Sites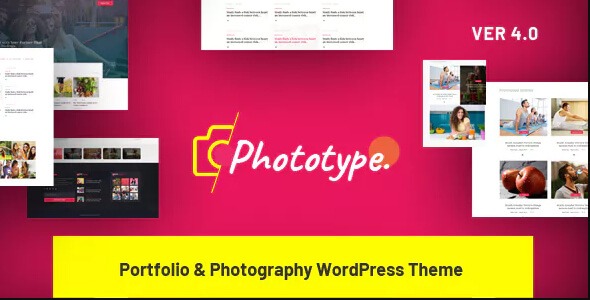 Are you photographer and looking for build website to showcase your work? Phototype is perfect portfolio WordPress theme for photographer. The theme is build using Elementor drag and drop page builder so you can easily build page you want for your website. Live customizer option to change Logo, Slider image and text, Portfolio style and more. Already 700+ website powered by Phototype WordPress theme.
Phototype is a minimal portfolio WordPress Theme specially for photographer. Well written and optimize code to load website faster. Better way to showcase your photographs on a fullscreen page in a clean manner. It has many layout option for home page and portfolio page to choose from. It's very easy to choose page option like in one click.
Theme got highest rating for their Customer Support and Customizability option. Gutenberg compatible portfolio WordPress theme
Moone – Photography Portfolio WordPress Theme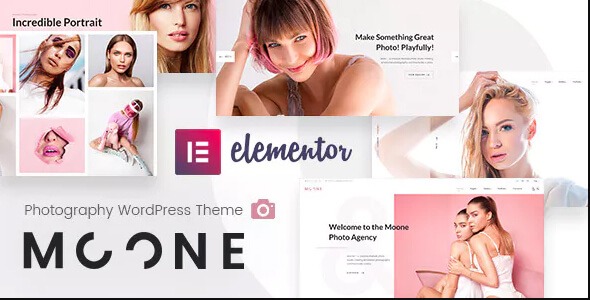 Moone is photography WordPress theme design with the best drag and drop page builder Elementor. highly creative and unique home page to choose as per your requirement. Powerfull header and footer builder to create and customize header and footer options. You can easily start blogging with your website and post any type of content for e.g. Gallery, Video, Photo, Audio and Quote.
Are you in photography industries and looking for website that stand out your from your compititor? Moone is the perfect solution for your requirement. Showcase your photograpy in impressive and attractive manner. Portfolio with shop WordPress theme so you can easily sell your products on your website without any additional features enhancements. Are you worried that you don't have technical knowledge about website development no worry author have created well written document in that they have mentioned all the step how to install theme and start editiong content.
Actually you don't need technical knowledge to edit or change the content and images. As theme is build with Elementor so it's easy like drag and drop. It has good review and rating so far for their Flexibility, Customizability, Customer Support, Design Quality.
Phlox Pro – Elementor MultiPurpose WordPress Theme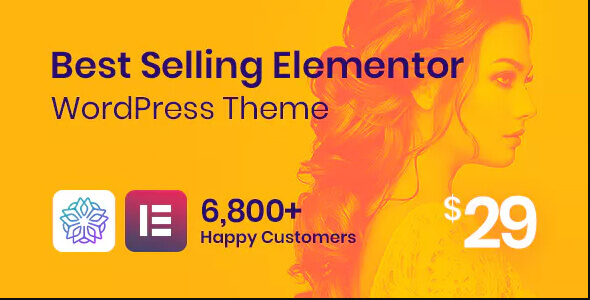 Phlox has a rating of 4.48 out of 5 stars because of its great features and customization availabilities, though some customers have reported that they get issues with the theme due to being mistaken as malware. The customer support helps you get over this issue in case it happens.
This theme has a modern look and feel to it as seen in the demos that you can also use as a basis for your website. Along with Elementor, Phlox combines powerful plugins such as Visual Composer, Yellow Pencil, Ultimate Addon, Convert Plus, and Go Pricing. These can help you make any kind of website, ranging from blogs, eCommerce businesses, and so much more.
The layouts of the website pages come in many choices, along with headers, footers, and transitions that you can choose from. Your photos can also look professional and clean because it comes with a modern image gallery.
Astra – Best Elementor WordPress Theme Ever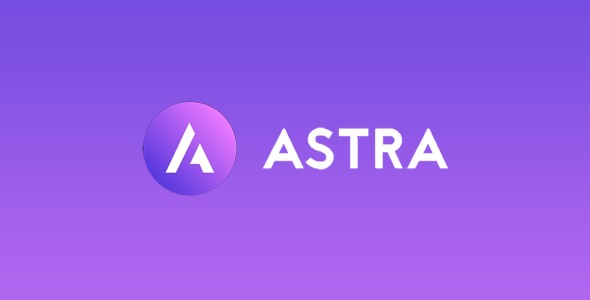 Astra is recommended by users who are experienced with creating different websites, since it is fully customizable and performs fastly. Along with the use of Elementor, this theme integrates WooCommerce to help you with creating an e-commerce store without having to worry about security features.
Astra offers you the option to decide what kind of layout to use on your website, which you can restrict on a certain dimension or to use the full layout width. You can also disable or enable certain features that you may find unnecessary in your website, such as the title of the website, its feature image, or sidebars. You also get to set layout options using the Global options from Customizer, but you can also override these layout features on another page depending on what you want to do with it. Astra uses Smart Elementor integration to help you save time in arranging features
OceanWP – Multipurpose Elementor WordPress Theme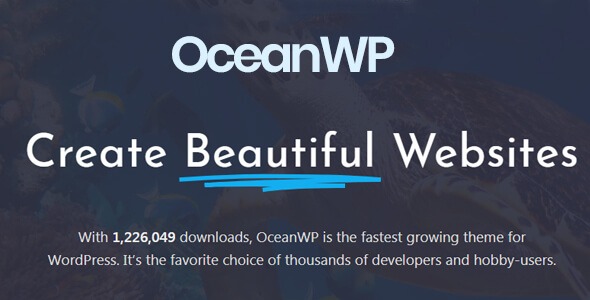 OceanWP also has an average rating of 5 out of 5 stars that comes with easy-to-use features and highly customizable layouts, while its features mainly being free of charge. Aside from integrating WooCommerce to help your website become e-commerce friendly, it is translation and RTL language-ready while being SEO friendly as well. It also comes with various plugins such as Thrive Architect, Beaver Builder, and Visual Composer.
For those who wish to create accounts for their viewers, you can simply add a popup login to log-in or register whenever you want. You can also stick features on to your website and add cookie notices on to your website to adhere to GDPR standards. You can also add social media platforms such as Instagram in your feed. You can also add sharing to other media platforms if you want, such as Facebook and Twitter, and add social sharing to individual posts.
Apollo13 – Creative & Multipurpose Elementor WordPress Theme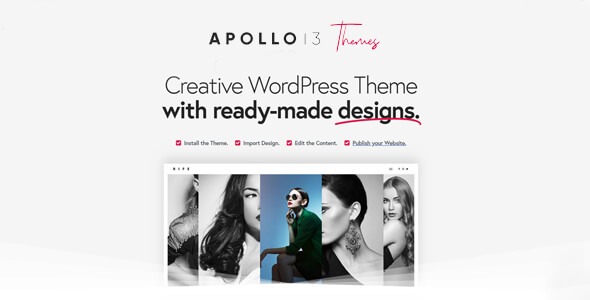 Apollo13 has an average of 5 star reviews because most of the users, whether free or premium, are highly satisfied with its performance and reliability in terms of its features. For those users who are not sure about how a certain feature works, its support system is sure to help you out immediately to give you possible ideas.
Some of the plugins that this theme includes aside from Elementor are Yoast SEO, WPBakery Page Builder, WPForms, and WP Google Maps. This way, you can use the features of WPBakery Page Builder in case you are not familiar with Elementor's system, and still be able to add features that only certain plugins can provide. If you are a website developer, this theme is sure to appeal to you because you can readily apply your knowledge into further customizing the features in your desired website without having to experience any code in compatibilities.
There are also other Elementor WordPress themes that use Elementor as one of the plugins that are included in the bundle, but these are the themes that mostly use Elementor's features to its greatest extent. These themes are mostly trusted by most users since they are one of the better themes that allow them to create any kind of website that they want. Thus, if you want to create a website with these themes, you are sure to be satisfied. All you have to do is pick which one to use for your future website.
Volenti – Lawyers Elementor WordPress Theme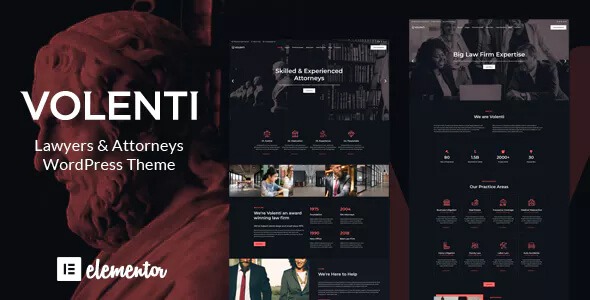 Highly modern and professional looking WordPress theme for law firm. This theme is best suitable for attorneys, lawyers, legal office and other law related services. The theme includes all you need to create a fully functional law business website ( premade homepages, practice areas, team members, case studies, about, contact, Q&A pages ). Volenti is compatible with Gutenberg and uses the flexibility of Elementor page builder plugin.
One click demo import will help you to create dummy website for your business. So you can easily edit and replace the content and images. Fully mobile responsive so it will works great on Desktop, Mobile and Tablet.
Gentium – A Creative Digital Agency WordPress Theme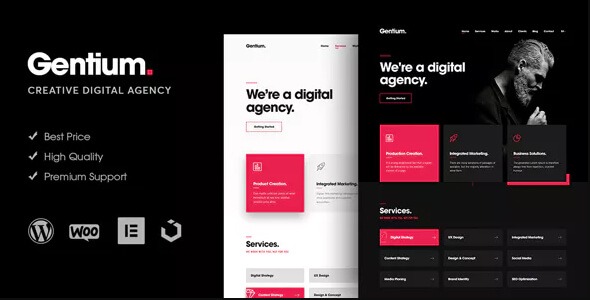 Gentium is Elementor WordPress theme for creative digital agency website. Theme has carefully crafted demo and element that you can easily use to create effective digital agencies website faster. Modern Designed looking, Validate Code, Header and Footer Builder, SEO Optimize one page agency WordPress theme.
If you are not technically strong then no worry theme have well written document with the instruction about how to install theme and import demo contet. OnePage WordPress Theme ideal for Digital Agencies, Business, SEO, Content Marketing, Consulting and Financial Companies, Analytical Groups and Large Corporations etc.